Notes from Camp: Weeks One and Two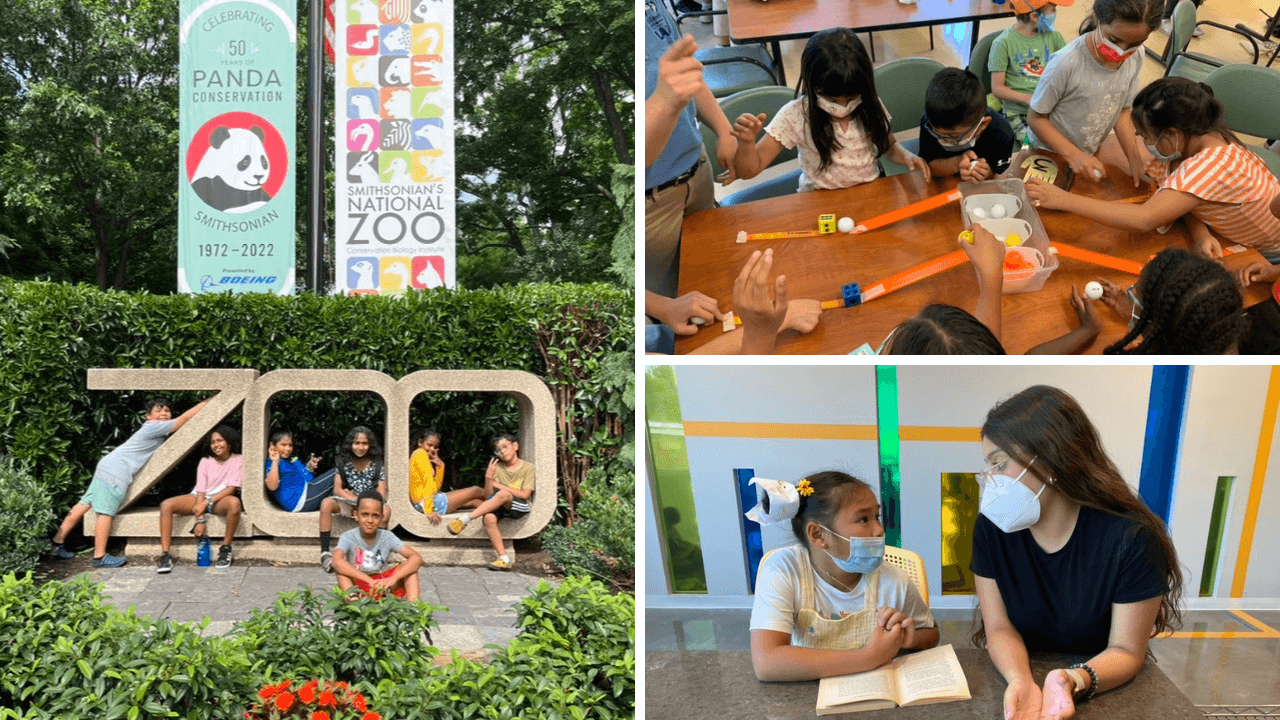 Aspire!'s six-week summer learning camp is in full swing, providing our students with a wide variety of experiences and activities that accelerate academic achievement, build confidence, and strengthen connections with their peers and community. Our full-day camp serves over 100 students at no cost to their families and includes not just academic support, but also social-emotional and project-based learning. Our theme this summer is Communications, and during our first two weeks, students have gotten the chance to explore various forms of storytelling and how we communicate with ourselves.
Week One Highlights
Our theme for week one was nutrition, which involved lots of hands-on projects, such as making healthy fruit sacks, growing micro greens, and learning how to read the nutrition label on packaged foods. In connection with our camp theme, Communications, students explored the ways we communicate with ourselves and especially enjoyed the "Talk to Yourself" activity. Students discussed the harsh ways we often speak to ourselves and then practiced speaking to themselves in the same, kind way that they would talk to a close friend.
Field Trips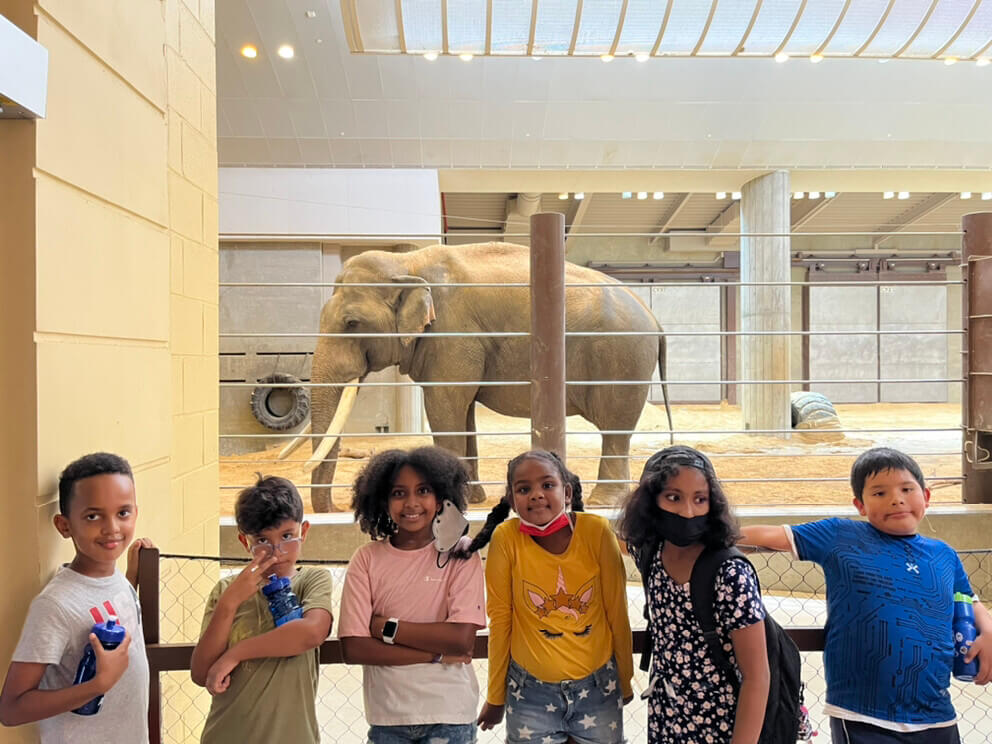 Weekly field trips are back this summer! During week one of camp, Aspire! was visited by the Children's Science Center Lab and students explored simple machines and engineering through their Science on the Go program. During week two of camp, students visited one of their favorite field trip locations, the National Zoo!
Week Two Highlights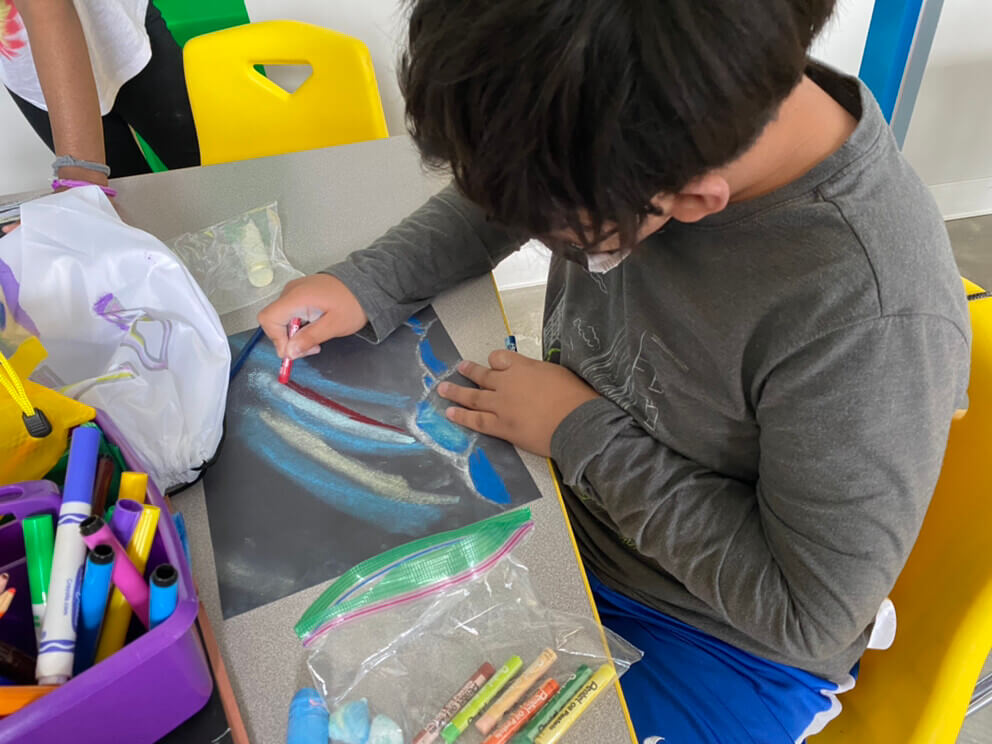 Students explored storytelling and cultures during week two of camp. One of our recurring themes this week was the use of storytelling as a means of explaining why things are the way they are before we had scientific explanations. Classes read aloud "Niekija and the Northern Lights," a legend told by the Sami People of Northern Sweden, Norway, Finland, and Russia. Students compared the legend and story to what we know scientifically about the Northern Lights today, then used chalk art to create their own vision of the Northern Lights.
Students also discussed unconventional methods of storytelling, such as how people use murals as social commentary to address current events and important issues like racism, sexism, and civil rights. They then broke into groups and brainstormed ideas for murals that would represent one of Aspire!'s five core values.
Camp Notes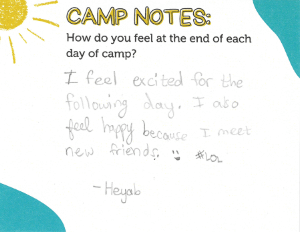 Student voice plays an important role in shaping Aspire!'s programs. This summer, students are completing postcards that have a new reflection question each week. They take these postcards home to their families and share conversations that connect the camp day to home.
The Importance of Summer Learning
As the National Summer Learning Association's Summer Learning Week recently highlighted, having academic enrichment programs is critical to ensuring students are ready for the upcoming school year and reducing summer learning loss, which has been exacerbated by distance learning and the pandemic. During the summer, Aspire! works with historically underserved upper elementary school students to provide daily camp programs with a special focus on reading and literacy. This type of programming works to close the educational opportunity gap and make sure students feel confident in their own abilities.