Each summer, Aspire offers a six-week, full-day intensive summer camp to bolster your student's reading and prevent summer learning loss. Summer camp themes are set in January of each year and reinforce academic content, including concepts from the Virginia Standards of Learning. Every summer, students use their unique voice, culture, and experience to build academic and critical thinking skills that will stay with them long after the summer ends. Students also have lots of opportunities to make friends, try new things, and have fun!
Our life-changing summer learning camp includes hands-on learning projects, a daily hot meal, educational field trips, and a fun and caring environment that offers your child opportunities to make friends and memories that last a lifetime.
In the summer of 2022, the theme was Communications. Topics included oral storytelling, newspapers, publishing, and other activities designed to support students as they transitioned back to in-person learning. Students participated in hands-on learning activities including podcasting, creative writing, journalism, video production, graphic design, and photography.
If you're interested in sending your child to our summer camp, enrollment typically opens in late spring and there is no cost to send your child to our program. We accept students entering 3rd through 8th grade. We are not able to accept students enrolled in grades below third at this time.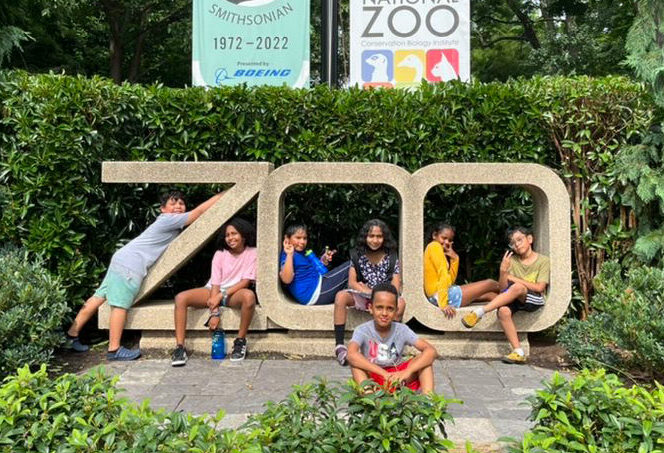 Although schedules at every site look different, all Aspire programs will have the same components every day.
8:45 AM
Student Drop-Off
Students may be dropped off between 8:45 and 9:15.
9:00 AM
Icebreakers & Announcements
Students are given time to participate in an icebreaker and hear announcements.
10:00 AM
Academic Activity
Students participate in an academically-focused activity.
11:00 AM
Activity 1
Students participate in the first scheduled themed activity for the day.
11:30 AM
Activity 2
Students participate in the first scheduled themed activity for the day.
12:00 PM
Lunch
Students are provided with lunch.
12:30 PM
Brain Break
Students participate in a quick structured break to prepare them for the remainder of the day.
1:00 PM
Reading
Students participate in individual or group reading each day.
1:30 PM
Activity 3
Students participate in the third scheduled themed activity for the day.
2:00 PM
Project Time
Students take time to work on a small daily or weeklong project.
3:00 PM
Free Choice/Recess
Students are given time for supervised free choice activities and recess.
4:15 PM
Snack & Dismissal
Students receive a snack as parents arrive to pick them up for the day.
4:45 PM
Closure
Latest time parents may arrive to pick up students before the building closes for the day.
Aspire's six-week summer program usually begins in late June (one week after the APS school year ends) and concludes in early August. Registration typically begins in late spring.
For 2023, Aspire's summer camp will begin on June 26th and end on August 4th. It runs from 8:45am - 4:45pm, Monday - Friday.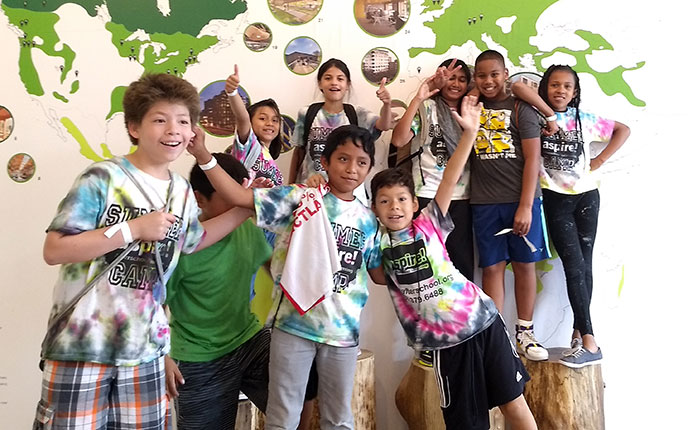 How do I enroll my child?
Afterschool: Enrollment for our afterschool program typically begins in late summer.
Summer: Enrollment for our summer program typically begins in late March/early April.