Aspire! Students See Themselves in the Careers of Tomorrow at Mastercard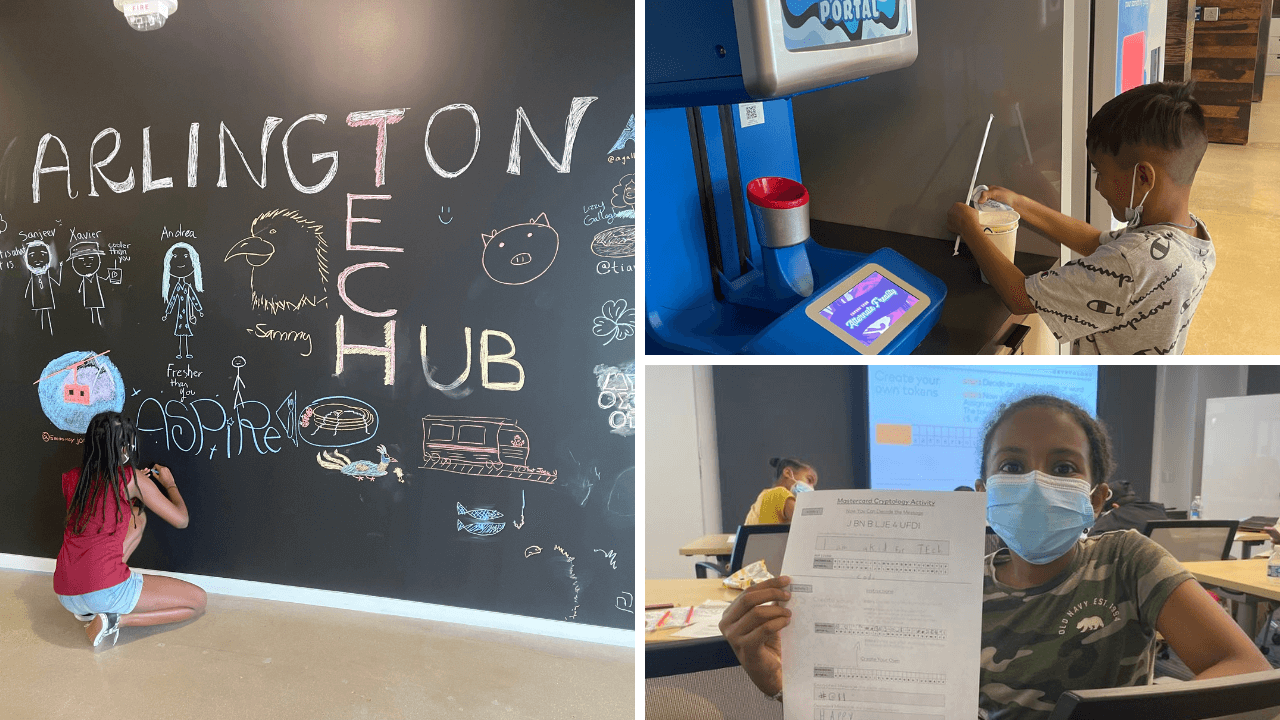 In August, our middle school and Carlin Springs elementary students had the opportunity to visit Mastercard, a Platinum sponsor for Aspire!'s fall event, to explore careers and workplaces of the future. Mastercard's office in Ballston, the Arlington Technology Hub, is an office that blends work and play to appeal to a new generation of technology career enthusiasts. To our students' disappointment, they did not get their own credit cards during the visit, but they did get to take full advantage of the incredible office snacks that made the visit extra exciting.
Part One: Envisioning Yourself in a Technology Career
The program began with activities that taught students about the different kinds of people that work in technology careers, helping our students overcome the stereotype that it's only boys who are good at math and science that go into tech. The first thing our hosts at Mastercard did was show a presentation to Aspire!'s students, showing adjectives and asking students which word best described them. Descriptors like "scientific," "curious," and "artistic & creative" ensured that all of our students saw how their interests could help them in a future technology career.
Students then learned about the work that Mastercard does, the different kinds of technology that they work with, and binary code. Students even got to write their names out in binary code to better understand how computers process information.
Part Two: Exploring Technology Terminology and Daily Work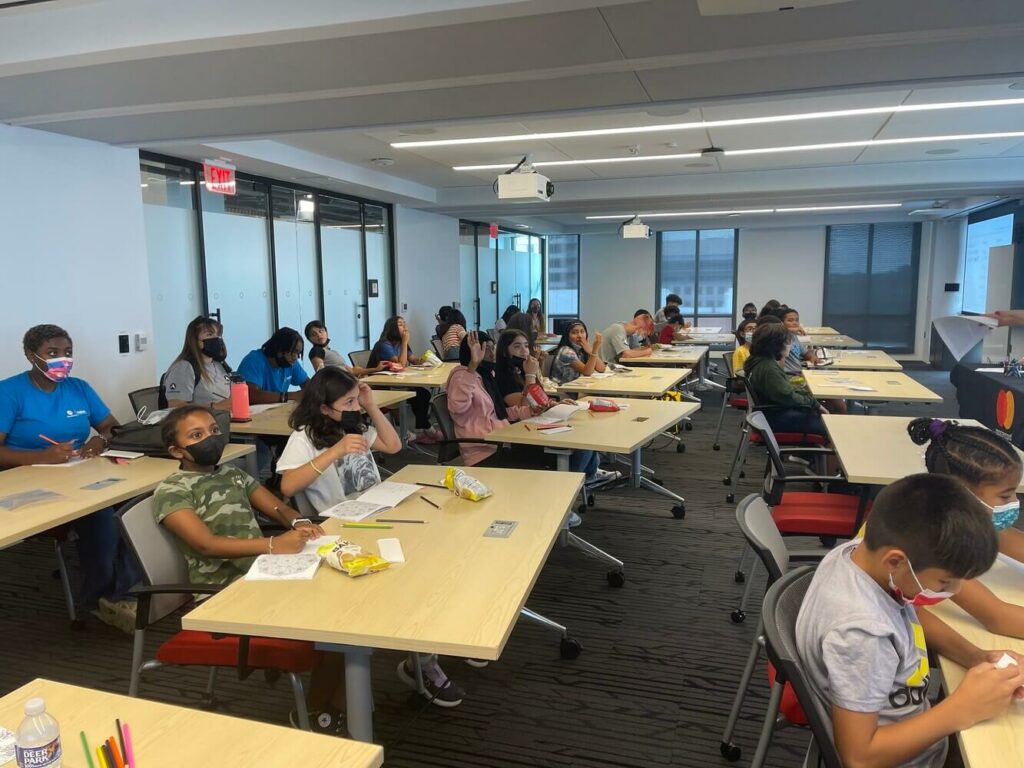 Students heard from a panel of young professionals who shared about their diverse backgrounds which led to a technology career at Mastercard. Students were especially curious about their least and favorite parts of their jobs and what kind of math they really need for a future career (and if they really would need algebra).
Students participated in hands-on activities to help them think like an engineer. Students used binary code to write their names and learned about how their data is kept safe in an activity about cryptography, where they had to crack a code and then create their own.
Part Three: Seeing Modern Work Environments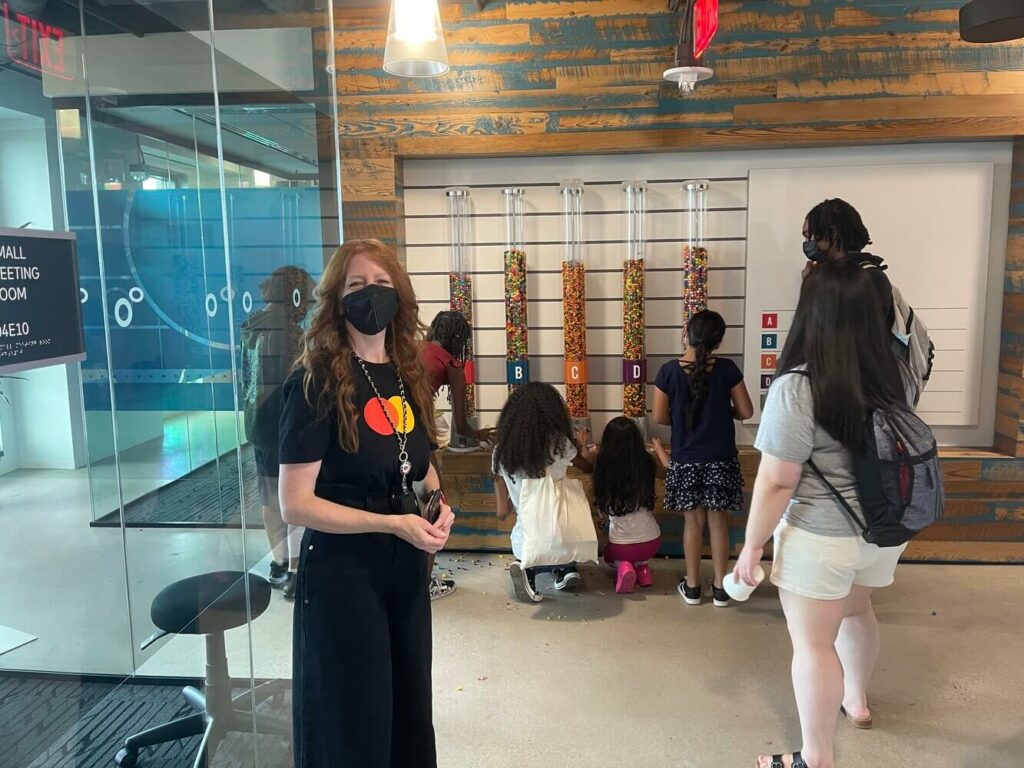 Next on the schedule, the kids explored the different features of Mastercard's office and saw the kinds of workspaces that will be available to them as adults. They loved the game room where employees connect with their teams and could find others with their shared interests, as well as the chalkboard wall where they could contribute to others' drawings. Their favorite parts were the excellent office snacks, especially a visit to the candy wall and milkshake machine.
Part Four: Lasting Impacts
After visiting Mastercard, many of Aspire!'s students expressed an interest in working in a similar kind of office when they grew up. Getting off the bus back at Aspire!, one of the middle school students said to her friend, "I'm going to work at Mastercard one day."
Having this opportunity to visit an office and see themselves in a technology career was eye-opening and inspiring to students, especially for those who never considered the possibility of one day working in an office with free milkshakes!
When reflecting on the visit, Andrew Fedorchek (EVP, Technology, Data & Services) said, "We had a fun and inspiring time hosting the next generation technology leaders at our Arlington office, where participants enjoyed digital and cryptography mentoring, a career discussion, Lego wall and most importantly, snacks. The students were interactive and eager-to-learn. We're grateful to community partners like Aspire! Afterschool Learning for the good work they do and are committed to nurturing the workforce of tomorrow and ensuring a level playing field so that equal opportunities are open to all."
Thank You, Mastercard!
We're so grateful to all the Mastercard employees who took time out of their day to present to our students and help with our visit. Thank you to Ellie Strawn, Ally Zhang, Lukogho Kasomo, Cara Simon, Charles Rogers, Lisha Yang, Patrick Ryan, Ceren Ebrem, Michelle Jaffee, Todd Paul Cassandra Beasley, Justin Beattie, Stacy Foster, PMP, and Andrew Fedorchek!