Aspire Afterschool Learning Welcomes New Members to the Board of Directors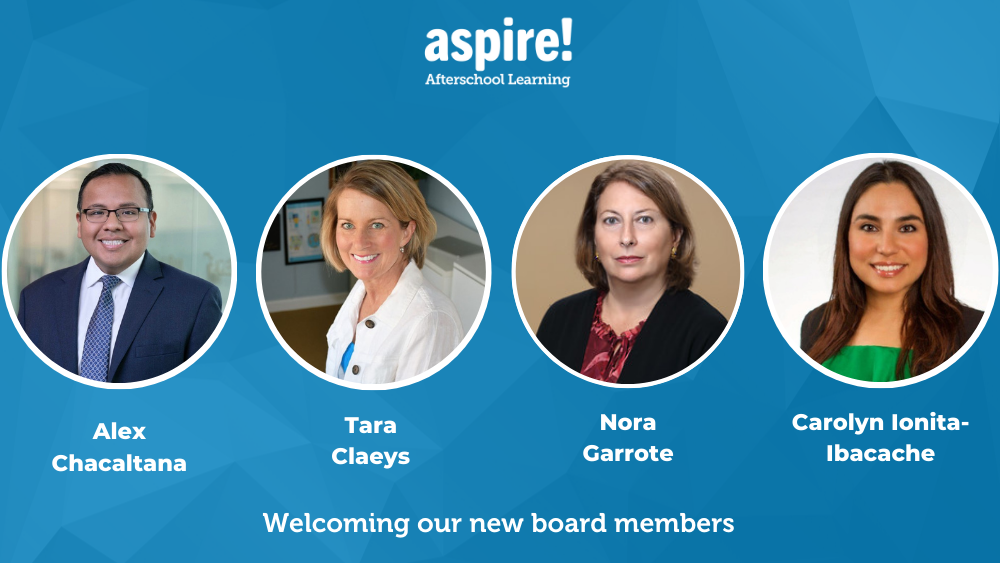 New members bring wealth of lived experience as Aspire continues to meet three-year goal to bridge the opportunity gap and serve more historically underserved South Arlington students
Aspire Afterschool Learning announces that four new members have joined its board of directors. Their collective expertise will amplify the organization's efforts as it strives to expand the number of students served, maintain its high-quality programming, and center equity and access.
Aspire is committed to serving students most impacted by the educational opportunity gap. Aspire's students overwhelmingly represent low-income households (94%) and students of color (99%), with 78% of Aspire students speaking a language other than English in their homes. Aspire has a demonstrated and stated commitment to advancing diversity, equity, and inclusion at all levels of the organization. This year, 57% of the board and 50% of the board leadership represent the diverse cultural, racial, and ethnic backgrounds of the students served by Aspire.
Aspire's new board members come from various sectors, with backgrounds that will support Aspire's mission by connecting it to the Arlington area in new ways and reflecting this diverse community. Aspire is proud to have a board that reflects the rich background of students and families, and that commits to putting Aspire's equity and access values into action.
Each of these individuals brings a wealth of experience and unique perspectives that align seamlessly with Aspire's core values. Aspire looks forward to working with Mr. Chacaltana, Ms. Claeys, Ms. Garrote, and Ms. Ionita-Ibacache. Their passion for education, youth empowerment, and community engagement will propel the organization forward as it creates a meaningful, tangible, and lasting impact on the lives of the students it serves.
Joining the Aspire board of directors are:
Alex Chacaltana, Senior VP and Relationship Manager, Freedom Bank
Tara Claeys, Owner, Design TLC
Nora Garrote, Principal, IP and Tech Advisory, LLC
Carolyn Ionita-Ibacache, Assistant VP, Compliance & Community Relations, Morgan Stanley
---
Alex Chacaltana brings 15 years of experience providing consultative banking advice and customized solutions to Not-For-Profit organizations. As an experienced treasury management professional, he guides his clients and provides customized cash management solutions and suggestions to maximize the use of cash with the goal of increasing interest income and minimizing fees. He previously served on the Board of Directors for EcoAction Arlington.
"Aspire's vital work with historically underserved students in the Arlington community sparked my interest and encouraged me to support this organization in a board of director's capacity. It's exciting to see the growth opportunities for Aspire in the years to come. I feel honored to be part of this organization and I look forward to contributing to its growth and success," Mr. Chacaltana said.
---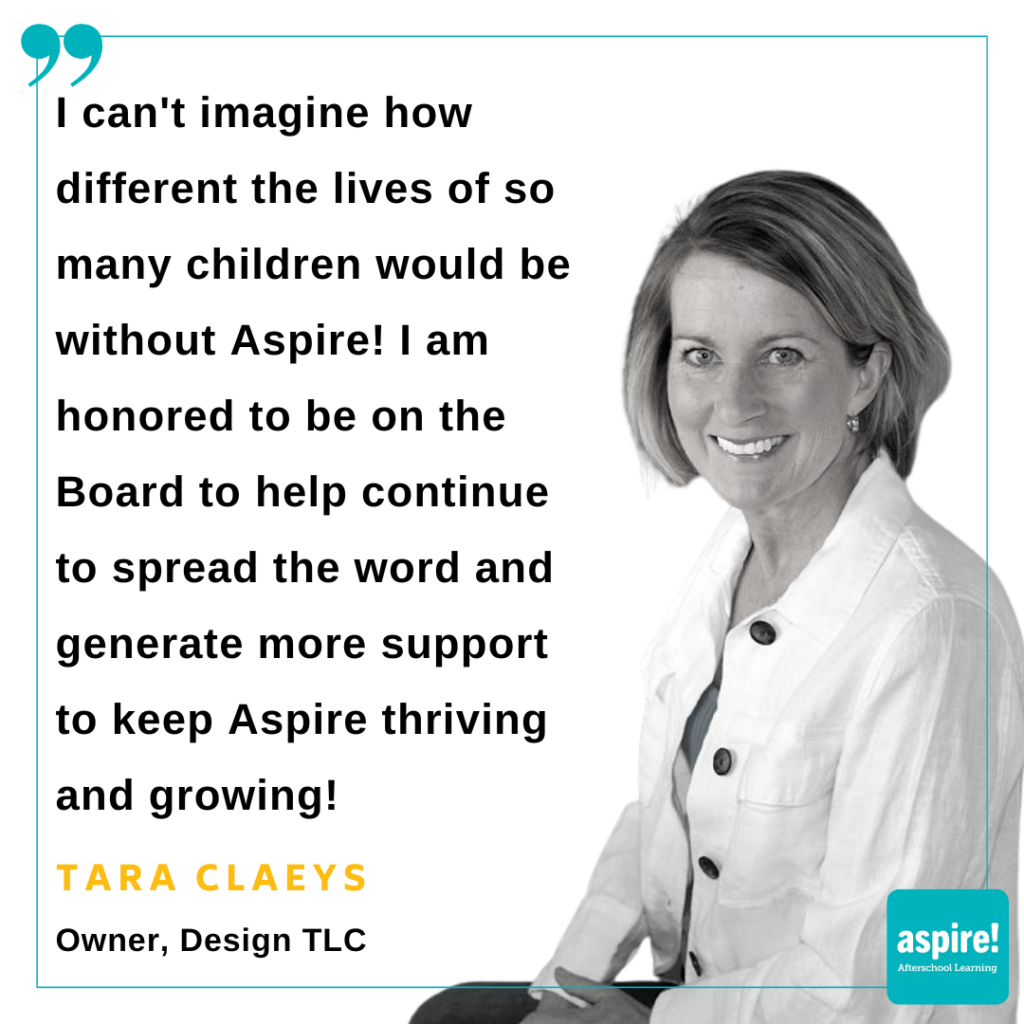 Tara Claeys is a website and digital marketing specialist who owns her own website design and development agency specializing in websites for small schools, camps, enrichment programs, and nonprofits. She has volunteered at Aspire for several years and recently worked with Aspire to develop its new website. She also volunteers with AHC and serves as a Member of the Arlington Women Entrepreneurs' Advisory Board.
When asked about why she wanted to join the board, Ms. Claeys said, "I am so excited to join the board of Aspire, an organization that does so much to fill an important gap in the lives of underserved children in Arlington. I can't imagine how different the lives of so many children would be without Aspire! I have participated as a volunteer over the years, after discovering Aspire during a Volunteer Arlington event and then as part of Leadership Arlington. I am honored to be on the board to help continue to spread the word and generate more support to keep Aspire thriving and growing!"
---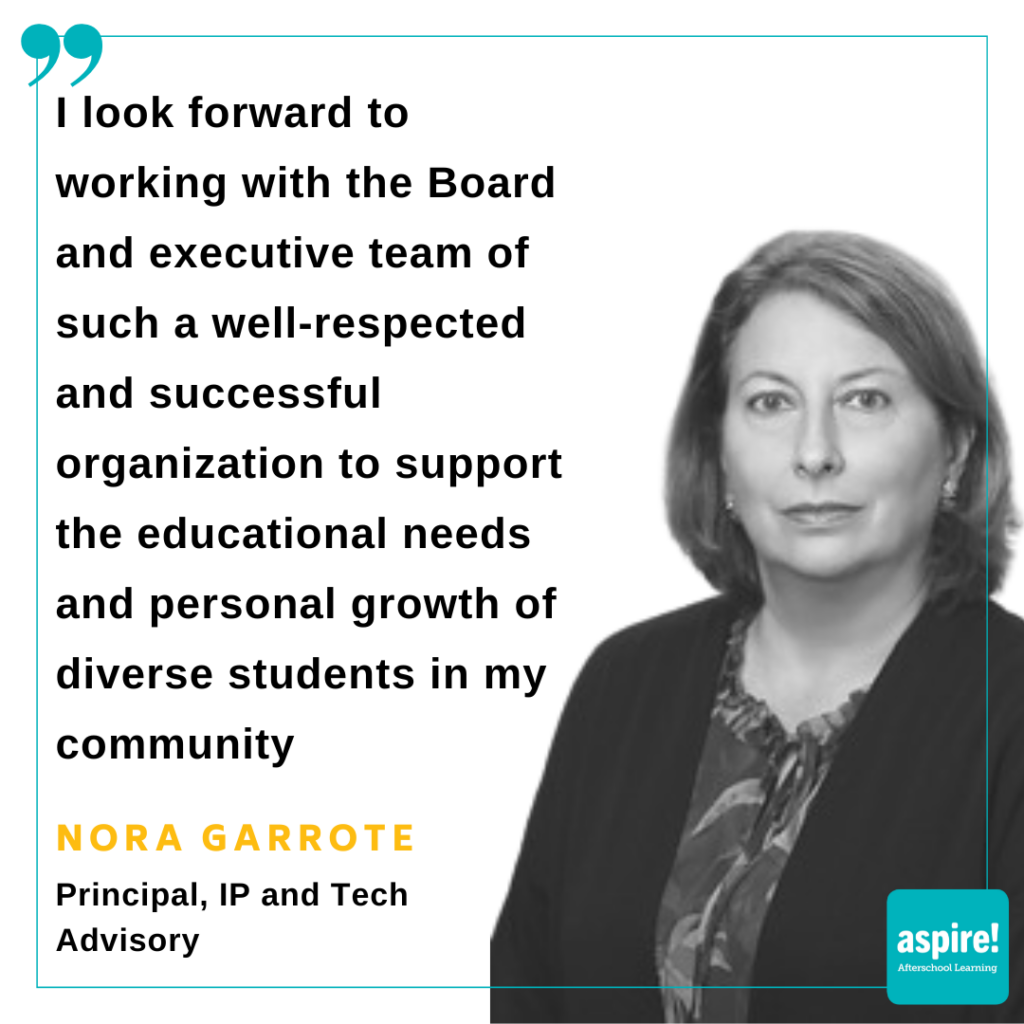 Nora Garrote has a strong background in structuring and negotiating technology and IP transactions, as well as developing and implementing programs aimed at fostering diversity, equity, and inclusion in the workplace. She worked as the Partner in Charge of Diversity and Inclusion at Venable before starting her own legal technology practice. She has been part of numerous Boards of Directors, including the Virginia Hospital Center and the Legal Aid Society of the District of Columbia.
Ms. Garrote said, "We each have a responsibility to contribute to the communities we live and work in. The mission of Aspire aligns well with my interest in closing the opportunity gap and fostering equity and inclusion. I look forward to working with the Board and executive team of such a well-respected and successful organization to support the educational needs and personal growth of diverse students in my community."
---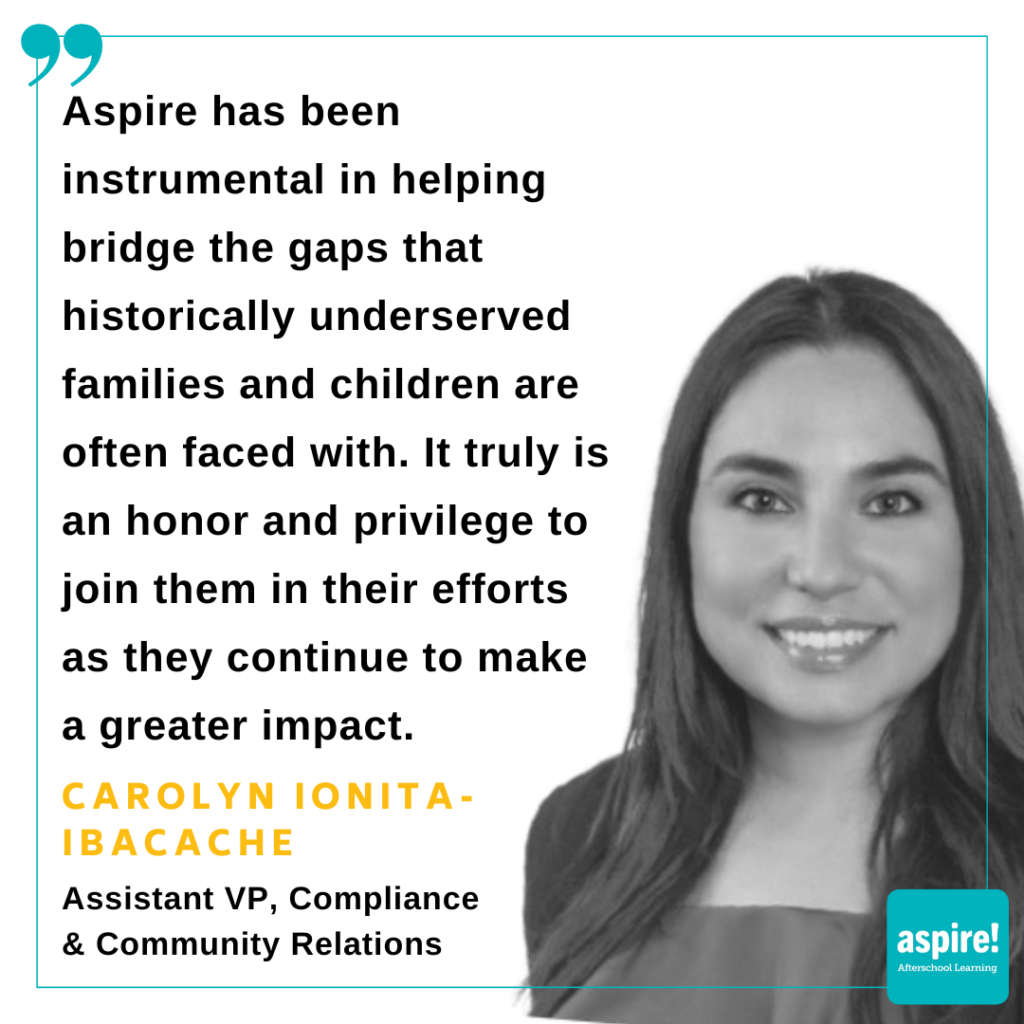 Carolyn Ionita-Ibacache brings a rich background in community development finance and legal experience. She worked as a corporate paralegal for several organizations before becoming involved in community relations and investment with E*TRADE from Morgan Stanley. She also serves on the Board of Directors of Mi Casa.
"Aspire has been instrumental in helping bridge the gaps that historically underserved families and children are often faced with. It truly is an honor and privilege to join them in their efforts as they continue to make a greater impact in the community," Ms. Ionita-Ibacache said.