Aspire Afterschool Learning is Grateful for Outgoing Board Members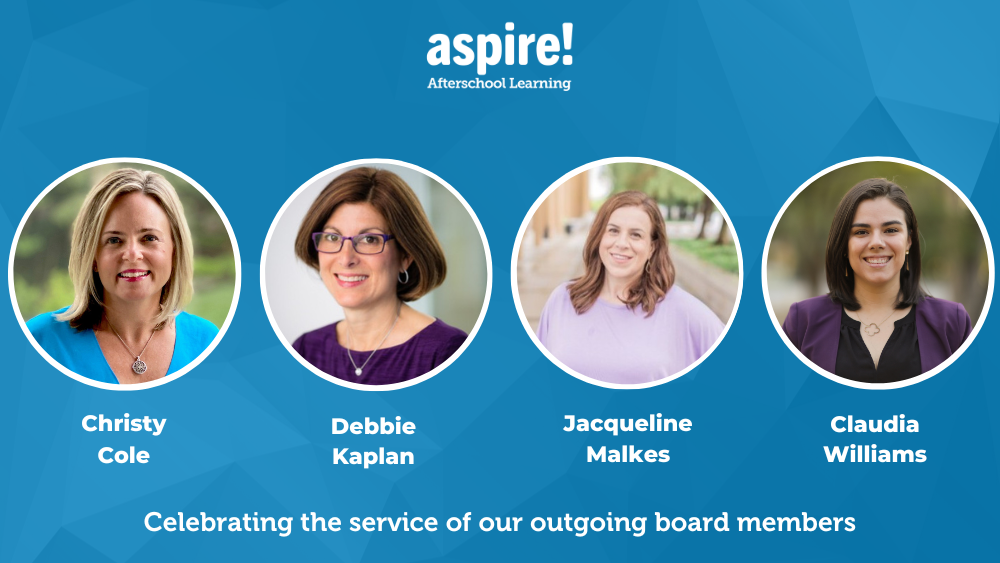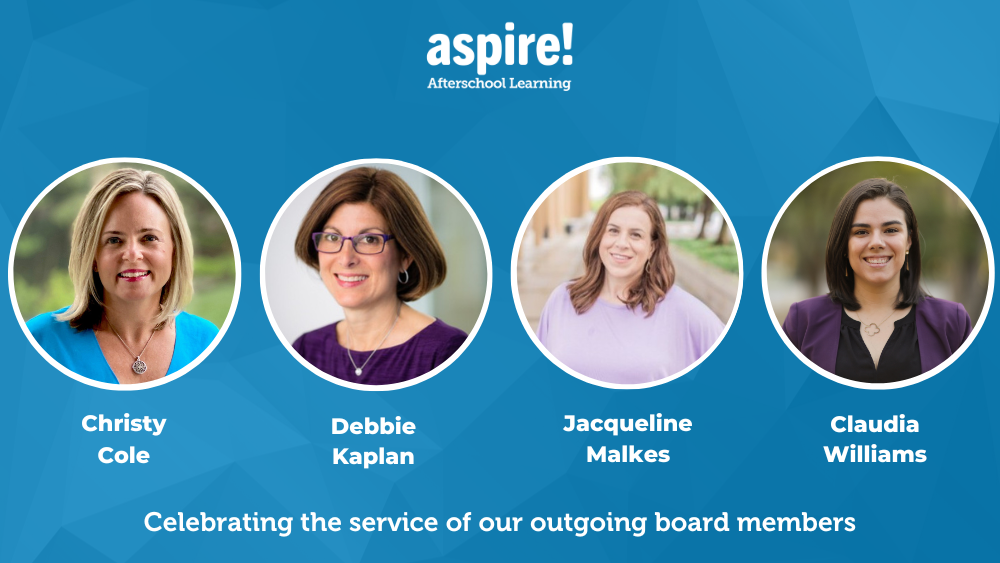 Outgoing Board Members Played a Key Role in Strengthening Local Partnerships
Aspire Afterschool Learning announces that four members of its board of directors have fulfilled their board terms of service. These members were invaluable in Aspire's family-centered response and strategic evolution during the height of COVID-19, as well as to the organization's dynamic post-COVID recovery and nearly doubling the number of students served in just the last year as historically underserved students begin to recover from the impacts of learning loss. The educational opportunity gap has widened in recent years, particularly affecting the students that Aspire serves: students from low-income households and students of color. Thanks to the support of these board members, Aspire has been able to increase the number of students we serve, partner more closely with the community to offer more resources to students and families, and adapt to the needs of students.
Leaving the Aspire board of directors are:
Christy Cole, Director of Philanthropy, Arlington Community Foundation
Debbie Kaplan, COO & VP Programs, Leadership Greater Washington
Jacqueline Malkes, Principal Implementation Manager, SAS Federal LLC
Claudia Williams, Director of Membership and Development, Grantmakers for Effective Organizations
Aspire is deeply grateful for the contributions that these four board members have made over their terms of service. Their dedication to Aspire's students has helped transform the organization and strengthen our partnerships with the community we serve.
Last year, Aspire began its ambitious three-year strategic plan, which includes the goal of almost doubling the number of students served by the organization, while maintaining its high-quality program and keeping the program at no cost to historically underserved families. One year into the implementation of this plan, these four board members express a sense of accomplishment for what has been achieved so far. During these members' time at Aspire, the organization has established partnerships with the Arlington faith community, local businesses, and other local nonprofits; adapted to COVID challenges; and maintained its focus on providing high-quality support to historically underserved students so that they can build thriving futures.
Aspire is grateful for the dedication, commitment, and enthusiasm of Ms. Cole, Ms. Kaplan, Ms. Malkes, and Ms. Williams over their years of service. Their help has been invaluable in ensuring that Aspire is able to best serve its students and the organization intends to continue these members' valuable work going forward.
---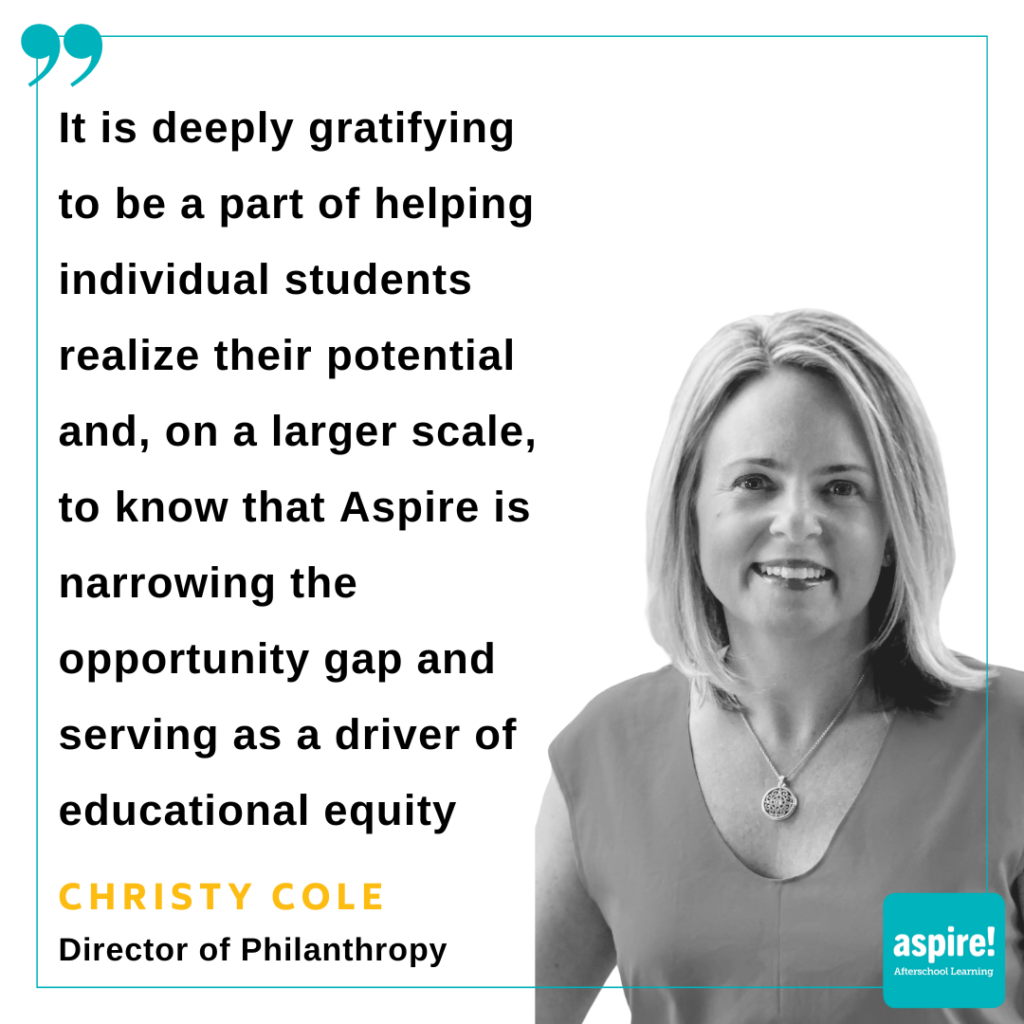 Christy Cole served two terms, a total of six years, on Aspire's board of directors. She has an extensive background in nonprofit consulting and fundraising and served on Aspire's Executive, Finance, and Resource Generation Committees. She also served as Chair and Past Chair of the board.
Reflecting on her time with Aspire, Ms. Cole said, "I am grateful to have served on Aspire's board. It is deeply gratifying to be a part of helping individual students realize their potential and, on a larger scale, to know that Aspire is narrowing the opportunity gap and serving as a driver of educational equity in our community."
---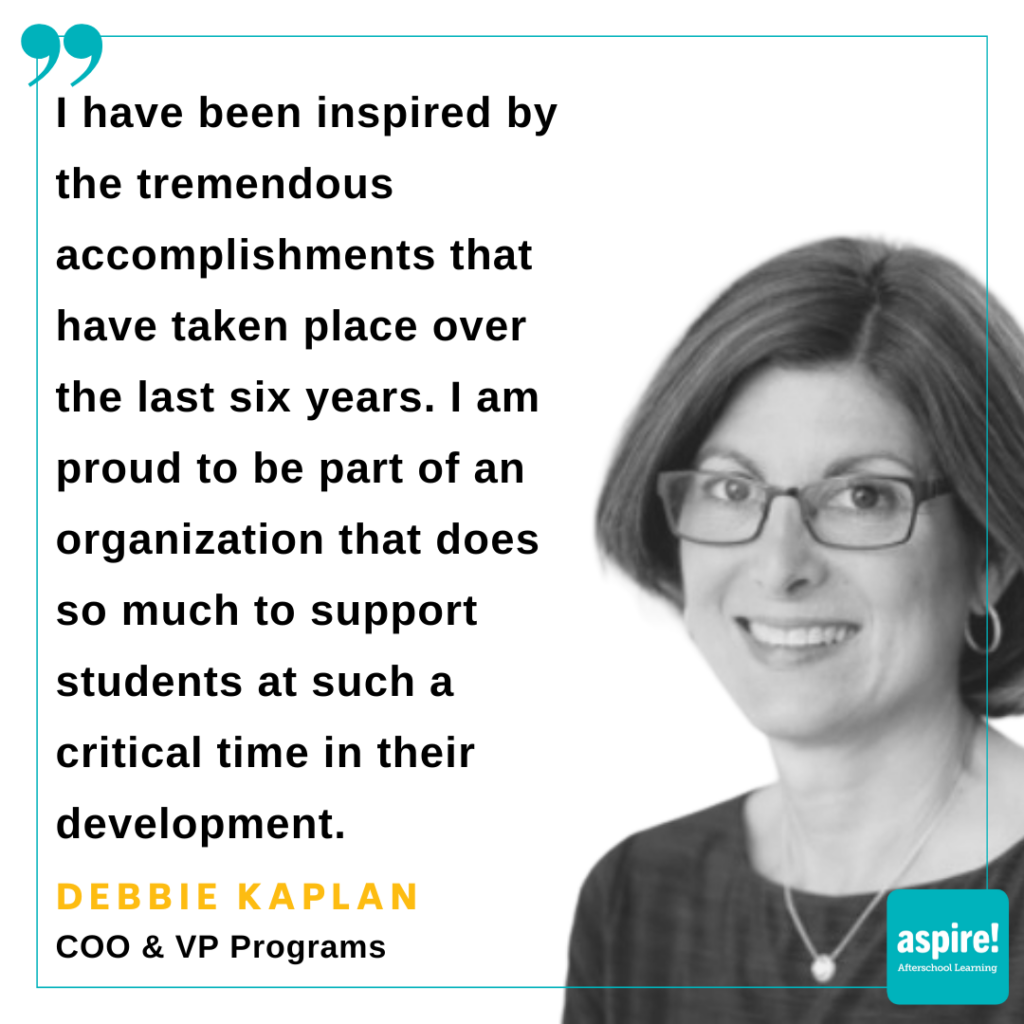 Debbie Kaplan served two terms, a total of six years, on Aspire's board of directors. She has worked in corporate marketing, assisted in the operational growth of several start-ups, and now develops and manages leadership growth programming. At Aspire, Ms. Kaplan served on the Executive, Performance, and Resource Generation Committees with Aspire, as well as serving as Vice Chair. Ms. Kaplan said, "It has been my absolute pleasure serving on the Board of Aspire Afterschool Learning. I have been inspired by the tremendous accomplishments that have taken place over the last six years. Some highlights include turning into full-time support for families during COVID, doubling capacity and the staff to support the growth, and creating and executing a strategic plan. I am proud to be part of an organization that does so much to support students at such a critical time in their development. I look forward to continuing to serve on committees and volunteering."
---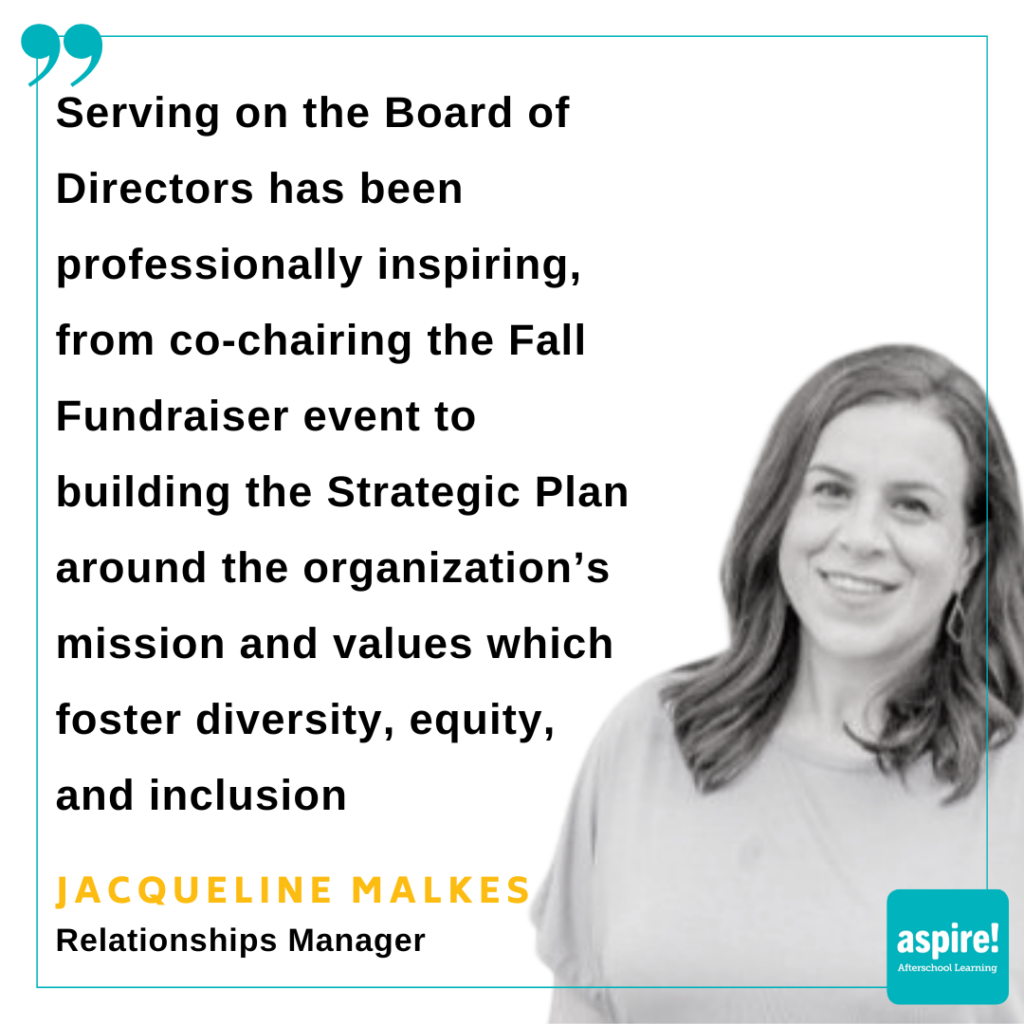 Jacqueline Malkes served a total of four years on Aspire's board of directors. She works in federal, state, and local software implementation and served on the Events Committee with Aspire.
When thinking back on her time with Aspire and her personal involvement with the organization, Ms. Malkes said, "It has been an honor serving on the Board of Directors at Aspire Afterschool Learning. My favorite experience was working alongside Aspire students to code their robots through an obstacle course during the SAS STEM event with my colleagues on the SAS Arlington team. Serving on the Board of Directors has been professionally inspiring, from co-chairing the Fall Fundraiser event to building the Strategic Plan around the organization's mission and values which foster diversity, equity, and inclusion."
---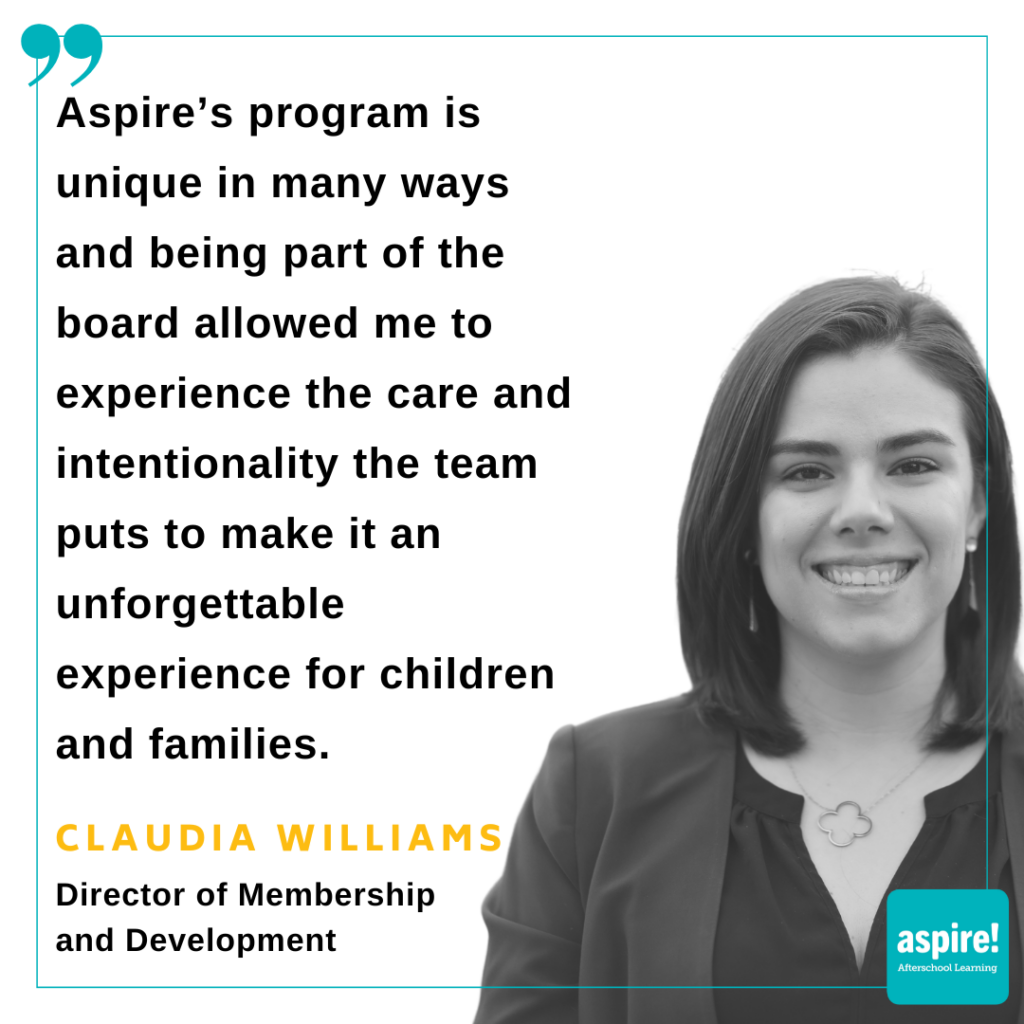 Claudia Williams served one term, a total of three years, on Aspire's board of directors. She is experienced in nonprofit membership recruitment and fundraising efforts, as well as leading grantmaking portfolios. Ms. Williams served on the Executive and Resource Generation Committees with Aspire. "It was a great opportunity to serve on Aspire's board to support the mission of ensuring historically underserved children can overcome the opportunity gap and succeed in school. Aspire's program is unique in many ways and being part of the board allowed me to experience the care and intentionality the team puts to make it an unforgettable experience for children and families," Ms. Williams remarked.